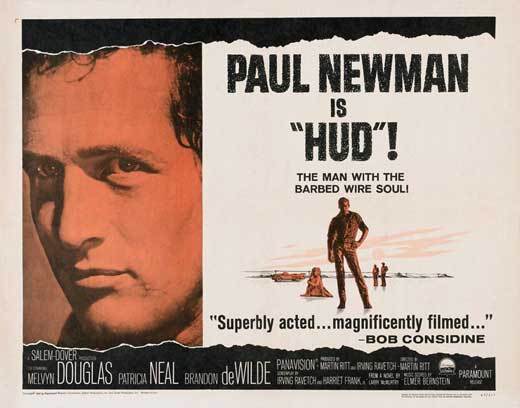 Director Martin Ritt
Cinematography James Wong Howe
Screenplay Irving Ravetch, Harriet Frank, Jr. based on Horseman, Pass By by Larry McMurtry
Starring Paul Newman, Patricia Neal, Melvyn Douglas, Brandon deWilde
Hud Bannon: Man like that sounds no better than a heel.
Alma Brown: Aren't you all?
Hud Bannon: Honey don't go shooting all the dogs 'cause one of 'em's got fleas.
Alma Brown: I was married to Ed for six years. Only thing he was ever good for was to scratch my back where I couldn't reach it.
Hud Bannon: You still got that itch?
Alma Brown: Off and on.
Hud Bannon: Well let me know when it gets to bothering you.
In the first of Larry McMurtry's works to hit the big screen, Hud stands on its own as a testament to the idea that "…there is nothing more sad or glorious than generations changing hands." This quoted reference to John Mellencamp's Scarecrow album is worthy in the fact that much of Mellencamp's mid-80's output seems to be stemming from this movie. There are direct quotes in his songs Lonely Ol' Night and Hot Dogs and Hamburgers. He worked with McMurtry creating the movie Falling From Grace. He even named one of his sons Hud.
The movie is based on a trilogy of books taking place in a fictional north Texas town called Thalia. Those who have seen Lovin' Molly or The Last Picture Show will recognize the atmosphere. Those who have seen any of McMurtry's adapted work will recognize the straightforward and almost harsh viewpoints and dialogue of the characters. Each character has a direct and unflinching view of their own roles in life. They don't apologize. They don't expect to win any awards either.
In this story, Hud Bannon is the sole living son of Homer (Douglasback), a widowed ranch owner who has just received potentially devastating news regarding the cattle on his ranch. While they work with a veterinarian to ascertain the extent of the damage, other events begin to unfold.
Hud's nephew, the orphaned Lon (deWilde) is between admiration for his grandfather and his uncle. He sees good things in both, but he is also light on the facts of life.
Hud is not the best influence. He is a hard worker; he also drinks to excess and is a womanizer. When he tries to woo housekeeper Alma (Neal), he tells her:
"The only question I ever ask any woman is "What time is your husband coming home?""
Homer is salt of the earth. He has lived for the cattle ranch, for better or worse. He has swallowed some big disappointments in his life. The biggest is his sole remaining son's inability to care about anything other than himself. He gave up on Hud long ago, and he would like nothing more than prevent Lon from going down the same path.
Alma is an enigma, but only because the two who are most drawn to her have no idea how to read her. Hud listens to her only because she wants something. Lon holds her on a pedestal that is completely ungrounded. It's clear to her that neither the man or the boy are compatible. They either lack the experience or the will to actually know her as a person, regardless of passion.
There are four incredible performances in this story. Neal and Douglas both (deservingly) won Oscars for their performances. In only 22 minutes, the former almost steals the movie completely. One could see the whole film just through her expressions alone. Her acting is augmented, unfortunately, through personal tragedy of losing a child shortly before the shoot. It's an unforgettable portrayal that will burn in the memory of anyone who watches her. Watching how she handles the dialogue makes one shudder. She has lived too long and through too much disappointment to fall to sweet talk that hides bad intentions.
Douglas is steady, and he works perfectly within the prose of McMurtry. His character is made of stone. He is not complicated, but his feeling runs deep. He is one who has given everything and more to the land he holds. The cattle are more than a source of income. They mean the world to him. It was a world he wants to pass down, even though the land has better options than just herding cattle. His understanding of the pinnacle of Lonnie's character is astute.
One could see the dawn of the '60s through his voice as he warns his grandson:
"Little by little the look of the country changes because of the men we admire. You're just going to have to make up your own mind one day about what's right and wrong."
deWilde is remarkable of the boy caught in between two visions. Hud's has the promise of money, but no real heart. Homer's is one of nothing but heart and hard work. Add to this his desire to show Alma how much he values her, we see the real conundrum. There is no option that gives him a life without losing something. It's remarkable to see how the kid from Shane developed into a remarkable teenage actor.
Through his remarkable yearning eyes, we see the message clearly sink in when Homer tells him, "It don't take long to kill things, not like it does to grow."
Newman takes the hardest route. As an unrepentant asshole, he has nothing he is going to apologize for, even though he should have nothing but shame. The choices inherent in his character are so inconsiderate, it's amazing to see such a charismatic actor take the role. There is some development to his character, though it is not going to be satisfying to those who like happy endings.
Wong won an Oscar for his cinematography. It's easy to see why. So much of the film feels so raw and alive, vibrantly black and white. Filmed mostly on location at the Goodnight Ranch in Claude, Texas, it feels like the land is a character fighting against the rest of the cast. Wong had an amazing career despite being the subject of many of the racist tendencies of the eras during which he worked.
Hud may take liberties with the original material, but the greatness of the story shines through. It's a remarkable story that feels timeless. If you want to understand humans a bit more, you should give it a try.
(***** out of ******)