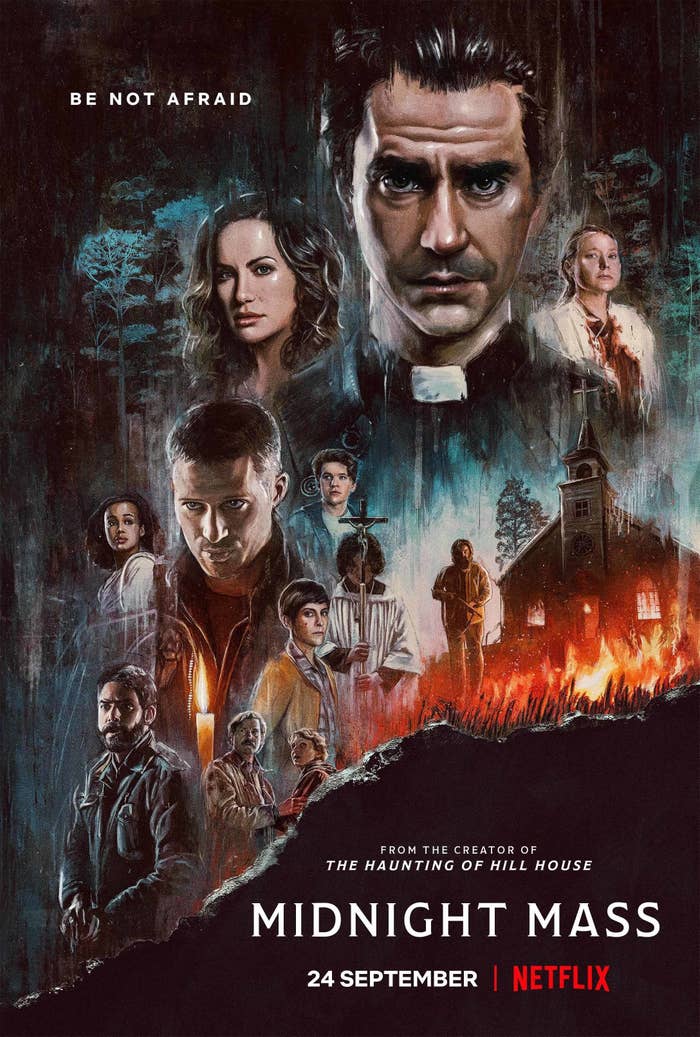 Director Mike Flanagan
Screenplay Mike Flanagan, James Flanagan, Elan Gale, Dani Parker, Jeff Howard
Starring Kate Siegel, Zach Gilford, Kristin Lehman, Samantha Sloyan, Igby Rigney, Rahul Kohli, Annarah Cymone, Annabeth Gish, Alex Essoe, Rahul Abburi, Matt Biedel, Michael Trucco, Crystal Balint, Louis Oliver, Henry Thomas, Hamish Linklater, Robert Longstreet
It's when Leeza confronts Joe Collie, it occurs to me that even if one don't see another minute of Midnight Mass, one will have gotten everything they needed from watching. Her forgiveness of a man who accidentally shot her years ago comes as a leak in the dam of pressure that is building all throughout the first episodes. It's a forgiveness laced with hatred and fear, and it feels as authentic as anything this viewer has ever witnessed. These characters, given life with words by Flanagan and his brother, James and acting by Cymone and Longstreet, are giving the viewer a moment as real as life itself. We've all been hurt. We've all hated. We've all forgiven, against our will. This is not your typical horror story. Flanagan is once more creating life out of illusion. And that is the solid story.
The tale begins with a death by drunk driving. Riley Flynn (Gilford), without a scratch, sitting on the side of the road while his victim lay dead. Four years later, he is released to his home on Crockett Island, soon to be followed by Monsingor Pruitt who is coming back from a trip to the Holy Land. Crockett Island is sick, from an oil spill and the crooked restitution that ruined them further. Like any place else, we'd think. It's filled with different types of people, a literal melting pot, which is referenced several times as the Crock Pot.
Father Paul (Linklater) arrives to Mass the next morning, with news that Monsignor Pruitt is ill back on the mainland. Father Paul says he will be covering for the Island's spiritual leader, until he recovers. The island's residents are intrigued by the new pastor, with some experiencing the same feeling about his stare as they felt from Pruitt. Some, including the island's Doctor Sarah Gilling (Gish) are especially affected. Sarah is a closeted lesbian. Paul offers acceptance with a knowing look about more than just that.
Teacher and Riley's old flame Erin Greene (Siegel) is with child and has a marriage that is breaking up. She finds solace in the return of her past love and appreciates the vigor of the new pastor. The discussions she has with Riley veer comfortably between life revalations and those real outlandish avenues two friends might have when they are incredibly high. These conversations become touchstones for the entire series.
Strange things are occuring in the night on Crockett Island. First Riley sees Father Pruitt wandering through a storm. Then all the cats wash up dead ashore. Then a pair of glowing eyes are seen by several people. The local drug dealer is vanished by something in a condemned house. Then Leeza is the beneficiary of a miracle in front of a knowing Father Paul. Then we see what the miracle takes out of him. And we then learn what really happened to the Monsingor.
As happened in his previous works, Flanagan has once more found a retinue of exemplary acting performances. Many of these performances are from people he has worked with before. Some of these are by character actors who've worked steadily, but never hit it huge. Even if the faces are recognizable, like Linklater, Siegel or Henry Thomas (playing Riley's father), the characters feel real to the time an place they inhabit in the world Flanagan has created.
Linklater in particular is exceptional in a pivotal role. He's on the crossroads of belief and reality and through a precision of scripture and unhinged hope, he's convinced he is onto something big. It's remarkable watching someone suffering while bringing joy and hope to a community in desperate need. He needs it as badly as they do, even if his lies of omission puts the message at risk.
Gilford has a crucial role, and even more critically, what happens to him goes against conventional storytelling. This is another gift of Flanagan, that he is willing to shift protagonists as the story evolves. It allows the viewer to feel they are experiencing actual events, rather than a scheduled rote story in which the locations vary but the structure never does.
Flanagan's wife and stalwart character actress Siegel is at home with this method, as her characters always have the same type of integrity. It's a perfect marriage of director and actress in more ways than one that she can be so many different people yet still find the depth of character each time.
Extra credit for the soundtrack. The songs are an intruiging mixture of Catholic hymns and post Vatican II songs that will hit anyone who hears them with an astute accuracy for the emotional state of the characters.
Wisely, Flanagan keeps the series down to a relatively brief 7 episodes. This allows the story to breathe, but avoids the excessive tangents of his last effort, The Haunting of Bly Manor. Even if it doesn't have the absolute wealth of screen scares that he provided in The Haunting of Hill House, the character building and acting of Midnight Mass makes it equally valuable. He's one of the best story tellers in the business of scaring people with a mixture of reality and horror.
(***** out of *****)